Win prize money and six free months of incubator office space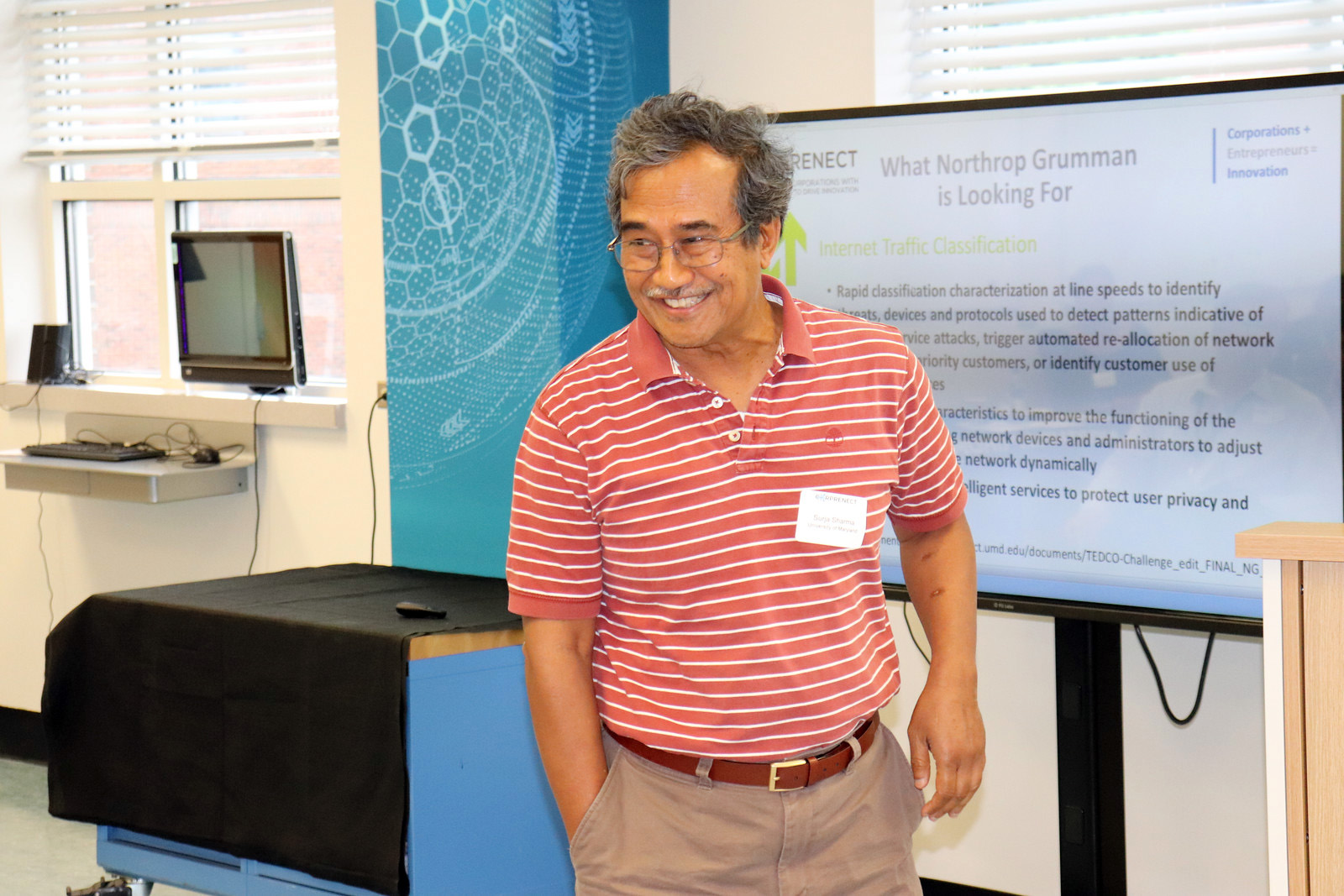 Four teams of Maryland innovators were selected in July, 2018 to participate in the first Corprenect Program cohort to develop data analytics and cybersecurity solutions with Northrop Grumman.

The Corprenect Program connects innovators and entrepreneurs with corporations in Maryland for technology development projects that drive innovation. Through the program, entrepreneurs and innovators advance technologies, services and solutions for interested corporations.

This is the program's first cohort, through which Maryland innovators were invited to develop cybersecurity solutions in conjunction with Northrop Grumman.

Innovator teams selected from among 18 applicants include:

Bethesda-based Adla Research LLC
‍The Adla Research team, which includes A. Surjalal Sharma, a senior research scientist in the department of astronomy at the University of Maryland, plans to apply data analytics technology to cyber threats and internet traffic.

Olney-based Canfield Consulting Group (CCG) LLC
‍CCG is an 8(a), small, women-owned, minority-owned, and DC CBE-registered business that provides innovative cybersecurity software products.

Adamstown-based Meridian Technology Systems Inc.
‍Meridian Technology Systems helps secure data and devices from misappropriation by employing hardware-based cybersecurity that never trusts the device it is securing.

Lutherville-Timonium-based TChain (DBA Yeswici LLC)
‍TChain develops a massively parallel processing (MPP) EOS cloud cluster powered by artificial intelligence high-performance computing (AIHPC).

Teams are engaged in a multi-week discovery and development process with Northrop Grumman. Following that process, select teams may be provided with incubator space and the opportunity to continue working with Northrop Grumman.

Through Corprenect, innovators benefit by gaining a clear path to the expertise, resources and opportunities offered by corporations. Corporations benefit by engaging in low-cost, low-risk R&D with innovators through a structured program catered to their individual needs. A streamlined process for engagement benefits both sides.

Corprenect is one of six projects to receive funding through the Maryland Technology Development Corporation (TEDCO) Incubation Challenge.

Corprenect partners include Mtech, the Bowie Business Innovation Center (Bowie BIC), Inncuvate Consulting LLC, the Prince George's Community College Center for Entrepreneurial Development and Training, and the University of Maryland Francis King Carey School of Law.

If your product or research fits the technology solutions described below, and you are interested in working with Northrop Grumman, then this program is your chance to engage with the right technologists in the company.
Solutions that improve ranking and prioritization of asset attack or compromise events using inputs from a wide collection of agents and sensors
Machine learning techniques that:
Characterizes internet traffic
Gather and correlate information collected from server and endpoint agents, network traffic monitoring, and other compromise indicators
Assess, prioritize and provide information and recommendations to defenders
Rapid classification characterization at line speeds to identify threats, devices and protocols used to detect patterns indicative of denial of service attacks, trigger automated re-allocation of network resources for priority customers, or identify customer use of network resources
Provide traffic characteristics to improve the functioning of the network by enabling network devices and administrators to adjust the operations of the network dynamically
Provide advanced intelligent services to protect user privacy and address attacks
Download the full technical interests document here (pdf).
Calling entrepreneurs and innovators to bring your ideas and talent for an unprecedented opportunity to work with Northrop Grumman on cyber security solutions!
Corprenect invites interested entrepreneurs (innovators, startups and existing companies) to participate in its first challenge with Northrop Grumman.
Through the challenge, selected participants engage with Northrop Grumman in multi-week customer discovery process to determine product/service market fit and viability.

Following this process, innovators will present their findings to a joint Corprenect/Northrop Grumman team at a closing event. This event will include total awards of more than $10,000 available, including 6 months of free incubator office space.

For more information, please download the challenge technical details above, and attend an information session. Please note that attendance at an information session does not commit you to, or guarantee, your participation in the cohort.
Register for the June 12 information session
with Corprenect and Northrop Grumman
The info session will tentatively start at 5 p.m. in the Northrop Grumman Collaboration Space, room 2110, TAP Building, 387 Technology Drive, College Park, MD, 20742.